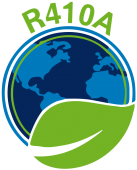 Clima-Flex products use limited quantities of R-410A refrigerant, which do not contain elements that attack the ozone layer (bromine and chlorine), nor is it a factor of global warming. R-410A is the most environmentally friendly refrigerant. This limited use of refrigerant rates our products for certified LEED projects.
Our products have reduced dimensions; this allows for simpler, easier, and less expensive installation maneuvers since our products may be moved through service stairs and elevators.
Our units can easily be connected to local area (LAN) networks and the Internet (WAN) under the TCP / IP protocol. Our units use the Modbus and BACnet protocols to integrate them into supervisory systems BMS.
The compressors in our products are installed on a double suspension that absorbs normal vibrations of use, thus reducing noise and component wear and tear.
Clima-Flex uses AC and EC fans, which are more efficient. Thanks to the serrated blade design it minimizes the vibration and operating sound.
Allows for exact measurement of water flow reaching the equipment. Since it has no moving parts, its wear is practically null.
It does not require involved maintenance.
The water-flow balancing valve allows the precise water flow passage to maintain the cooling efficiency at all times.
Automatically reduces the water circuit to the operating units.
Increasing the efficiency and response time of the system.
Allows to independently isolate modules for maintenance without need to shut down the entire system. In case of a module failure, the affected module is isolated without affecting the rest of the installation.
Filters impurities from the water and keeps the heat exchanger clean. Its transparent body allows for a quick visual inspection of the water quality in the system.
Enables reliable monitoring of the water-flow within the system.
It has no moving parts and requires very little maintenance.
Increase performance. Allow better thermal transfer. Reduced use of refrigerant. Resistance to corrosion. Low risk of leakage. Simple and fast repair.